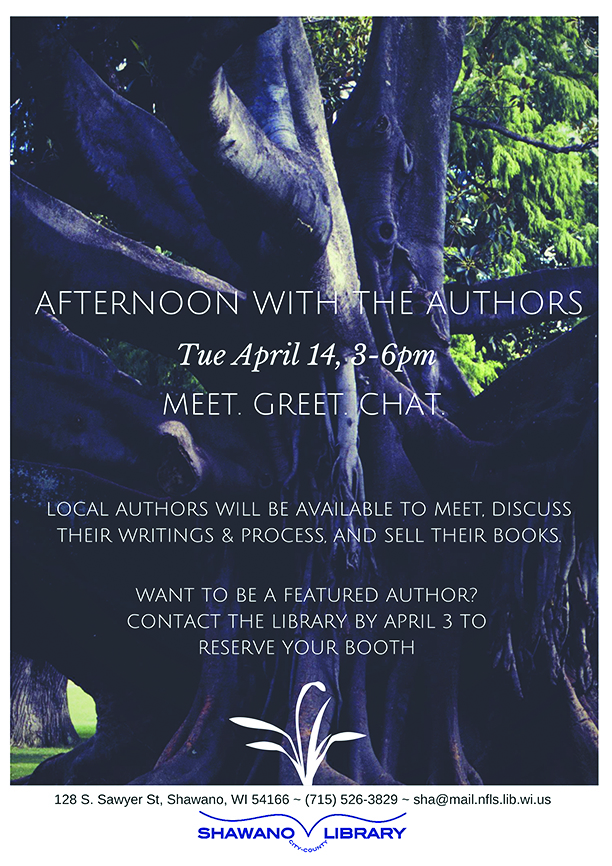 The Shawano Area Writers will be showcasing some of its talent at an event put on by the Shawano City-County Library on April 14. From 3-6 p.m., the library will hold an open house called "Afternoon With the Authors." You'll be able to meet local writers in Shawano and the surrounding communities, find out about their writing and even purchase some of their books.
Among the Shawano Area Writers participating are:
• Wendy Goerl: The secretary for Shawano Area Writers will be attending with copies of her poetry book, Fantasms of Freedom, as well as her how-to books, 30 Ways to Weave a Potholder and 30 More Ways to Weave a Potholder.
• Lee Pulaski: The Shawano Area Writers president will be selling the first two installments of his mystery series based in Shawano County — As American as Apple Pie and Death By Order of the Queen. He'll also be selling some of his earlier novels, set in Wisconsin and Arizona.
• Carol Schlehlein: Carol will be attending with two books to talk about and sell. God Is My Help is a compilation of prayers, meditations and poem, written in a simple manner to reach all who are searching to expand their understanding and relationship to God.  She will also be selling her new book Thunder Weather, a novel based on a true story of family life on a farm in Mequon, Wisconsin, from 1900 to 1945.
• Dr. Dennis Vickers: Dennis is a professor at the College of Menominee Nation and will be showcasing his latest novel, Mikawadizi Storms. His story is a fictionalization of the very real issue of open-pit mining in Wisconsin.
• John J. Mutter Jr.: A longtime member of the Writers, John will be selling copies of his autobiography No Time to Count: The Life of a Small-Town Writer, which he self-published, as well as some of his earlier work.
• Dr. Steven Dakai: Dr. Steven Dakai is a nationally recognized professional and personal development consultant for over 17 years. and author, who just released his new book, Making Shift Happen. He holds a doctorate in addictive disorders and recently joined the Shawano Area Writers.
Check back often to see which additional members of the Writers will be participating.